This dual-latex coating technology allows gloves to be both breathable and liquid resistant, providing premium grip and dexterity with breathability in dry or wet environments, no matter the outdoor conditions.
1. Aerated latex foam covers 13 gauge liner to allow warm air to escape, so your hands can breathe and perspiration is reduced.
2. Full foam latex coating is impermeable, preventing liquid from penetrating the glove and therefore keeping your hands dry.
3. Extra latex coating on palm and fingers provides excellent grip and dexterity.
Aerated latex foam for breathability and reduced perspiration
Impermeability protects from liquid penetration
Latex coating offers high level of grip and abrasion resistance
Soft comfort and premium fit thanks to SHOWA's hand shape technology
High level of flexibility due to engineered coating
Ergonomic design that replicates the natural curvature of human hand, reducing hand fatigue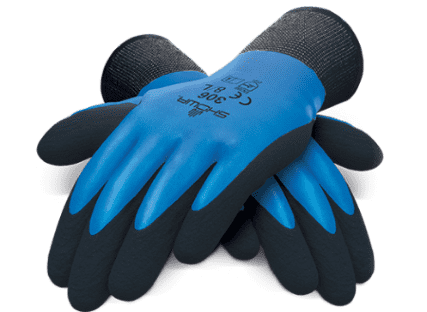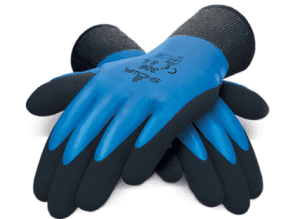 Same glove, better for the planet
An industry first, SHOWA's Eco Best Technology® (EBT) offers the same glove with no compromise in its quality, performance, and protection – but better for the planet. EBT accelerates the biodegradation of nitrile to organic compounds in biologically active landfills, an ability validated by independent certified laboratories using international test methods ASTM D5511 and D5526.
Thanks to its special composition, SHOWA EBT gloves decompose within 1 to 5 years in active landfills, where regular nitrile gloves require over 100 years, thus reducing the impact gloves have on the environment.
EBT materials added to nitrile during production.
Gloves are disposed of by consumers.
Gloves are transferred into biologically active landfills.
Microorganisms break down the EBT materials, to decompose within 1–5 years.
Organic soil and biogas is left in its place
Join SHOWA and find your EBT glove below. Make the difference today.
Since the revision of the PPE regulations in 2016, a market-wide downgrade in EN 388 and ANSI 105 cut level scores for re-certified products led to general purpose gloves for medium-low risks decreased from cut level 5-C/A3 to 5-B/A2 and under. At SHOWA, we believe in value for money, safety and comfort. Research shows that many workers use general purpose gloves with low cut resistance levels – the former EN 388 and ANSI cut 5 being B/ A2. Risks of injuries increase and worker's safety is jeopardised.
SHOWA saw these changes as an opportunity to seriously evaluate our products offered and our customer relationships, asking ourselves: Do our customers really want the cheapest hand-protection solution or the best value for money?
What is DURACoil Technology
The liner is engineered by tightly wrapping multifilament polyester around a cut resistant fiber, then reinforcing it with High-Performance Polyethylene, also known as HPPE. The technique is very important to user comfort; if not done correctly, the fibers will irritate the skin. This therefore creates a premium lightweight yarn that offers comfort, durability and an increased cut protection.
The name of our new technical innovation used in the liners of our DURACoil products comprises of 2 words:
1. DURABLE = the gloves are designed for maximum comfort, to be worn for extended periods of time for a wide range of medium-low risk applications
2. COIL = the wrapping technique where fibers are coiled around the other in layers, thereby increasing the level of resistance
Imagine all you can do with a consolidated cut series!
Good resistance against cuts, snags and tears
Upgraded mechanical risk protection for general purpose activities
Soft, lightweight and ultra-comfortable with no skin irritation
Excellent fit and dexterity
Increased productivity with durable protection for multipurpose & cut risks
Consistent high quality & unmatched level of service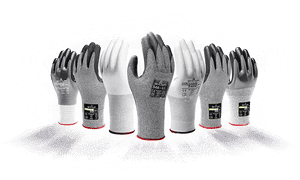 Microfibre is synthetic fabric with very small fibres or threads. The diameter of microfibre is about 20 times smaller than a human hair. The most common types of microfibres are made from polyesters, polyamides or a combination of polyester, polyamide, and polypropylene.
The shape, size and combinations of synthetic fibres are selected for specific characteristics, including softness, toughness, absorption, water repellency, electrostatics, and filtering.
Breathable fabric
Retains original shape
Comfort is similar to natural fibres and soft
High performance moisture wicking ability
Enhanced durability
Lightweight
Easily maintained and cleaned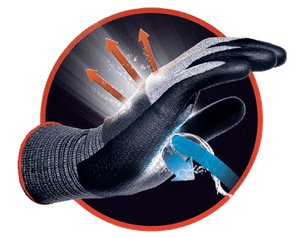 Also known as the Hagane Coil® technology, this engineered liner was originally developed for the S-TEX KV3, providing high levels of cut resistance without sacrificing comfort.
It utilises a unique coiling technique that binds an attending yarn to a stainless steel core, which provides better protection than any natural or synthetic fibres, yet it is thin enough to allow flexibility and free movement as the hand bends and flexes.
By utilising different composite yarns we can create different wearing experiences. Soft yarns and stainless steel combinations offer more comfort and dexterity, while hard yarns and stainless steel offer superior protection and durability. It is a combination that offers maximum protection, comfort and performance.
TEMRES® Technology renders gloves breathable and waterproof, a combination of opposing but important features offered in a single glove. Revolutionary at the time of its launch, its uniqueness and many benefits have since become recognised in the market.
Exploiting the significant size difference between the lower molecular energy of liquid water and the higher energy of water vapour, two main membranes are created in the glove that enable the TEMRES® effect: one for breathability, and one for water resistance.
The inner breathable layer is made from a porous foamed polyurethane, enabling moisture to come out easily and allowing the hand to dry promptly. The outermost waterproof layer is made from a hydrophilic polymer, permeable to moisture but not water. This difference in the concentration of water molecules and temperature leads to water vapour transfer from inside the glove to outside.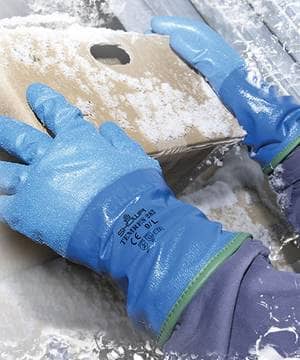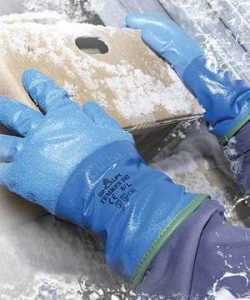 The NexPolymer™ is a multi-functional, green polymer coating with a leather-like surface, made from polymer polyurethane material. It's a fundamental breakthrough for the long-term safety of the environment as it eliminates the use of solvents in the manufacturing process.
PU+TPU+PUD=NexPolymer™
The Benefits of NexPolymer™
Food grade
Good durability
Up to -25c low temperature resistance
Quick dry
Biodegradable
High elasticity
Leather-like texture
Up to 160c resistance
Natural foam
Touch screen function
Waterproof
Natural latex free 
Odourless
Silicone free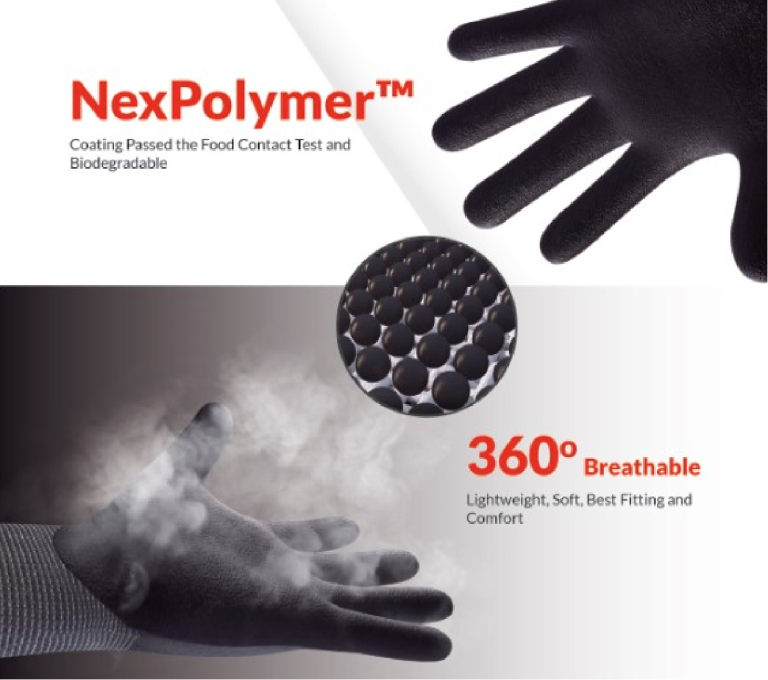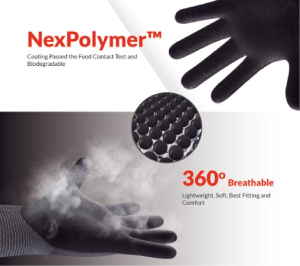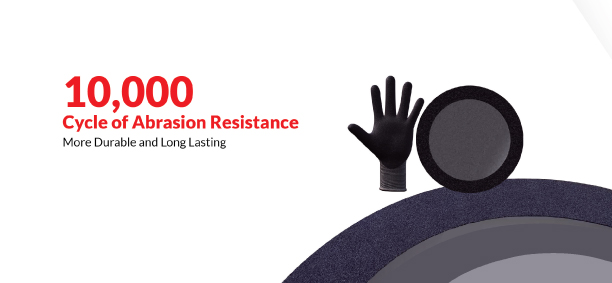 TungFlex™ is a proprietary metal fiber solution that has been innovated to provide superior cut protection without the need for fiberglass, basalt or steel fiber reinforcement. Using TungFlex™ yarn in areas requiring cut resistance is more flexible, stronger and safer.
The Benefits of TungFlex™
HIGH FLEXIBILITY
25% to 50% thinner than conventional cut resistance materials (steel, fiberglass or basalt) and lightweight.
SUPERIOR CUT PROTECTION
TungFlex™ Special Metal Fiber hardness is 2x better than Steel, 1.5x better than Basalt and Fibreglass based on Mohs scale(Hardness values higher is stronger).
EXCELLENT COMFORT
50% lighter than conventional cut resistance gloves of same protection level resulting in more comfort and reduce hand fatigue.
ALLERGY-FREE
TungFlex™ Special Metal Fiber do not contain material that cause allergy.